Checking out the new Workflow Health pages
By blurg64
Whilst looking into a workflow issue today on my Office 365 tenant, I noticed a new feature that appears to be quietly rolling out into Office 365, the Workflow Health screen. Dee over at DDLS also noticed it a few weeks back and blogged about it, but I thought I would dig in a little more.
From the surface it looks like the feature addresses some of the issues in Office 365 when the Workflow Manager instance your tenant is attached to is down or unavailable or you want to see aggregated status of workflows in a site or list without clicking into each workflow instance.
To access this Workflow Health screen click the link entitled Workflow Health next to the Workflow history view in your lists, libraries or site workflows and the Workflow Settings screens as highlighted below..

In all cases, the link will take you to the Workflow Health page that provides an overview of all workflows in your site and the status of their associated instances.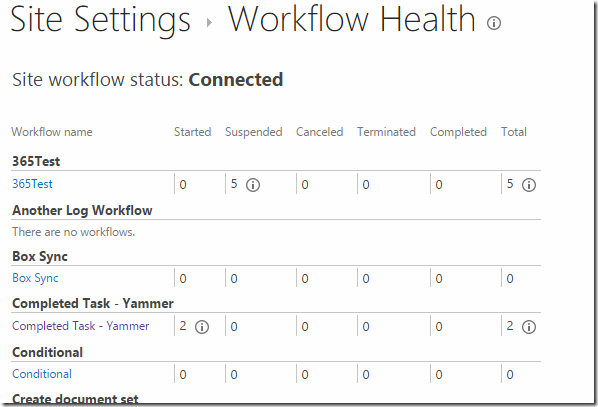 What makes this feature even more useful is that you can see at a glance the status of each workflow and drill into specific details on the last update for each instance by clicking on the i icon for the status, instead of having to navigate to each individual workflow instance and that you would usually have to click on the little blue i icon to get as well as choosing to Resume, Suspend or Terminate all instances of that specific workflow.
Now all of this seems to be really easy to get to for SharePoint workflows, but if you want to access Project Online workflows it's a little harder to more involved…
In PWA, click on the Settings icon to open the Site Settings and choose Workflow Settings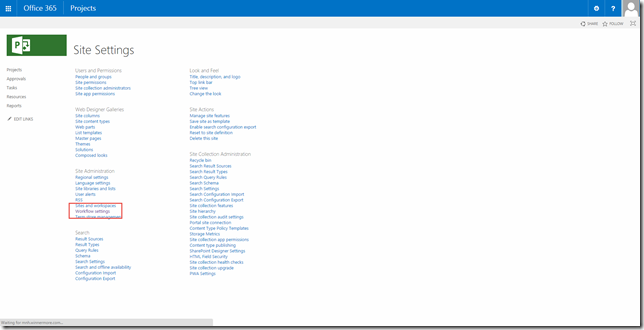 In the Workflow Settings page, there is a link for Workflow Health.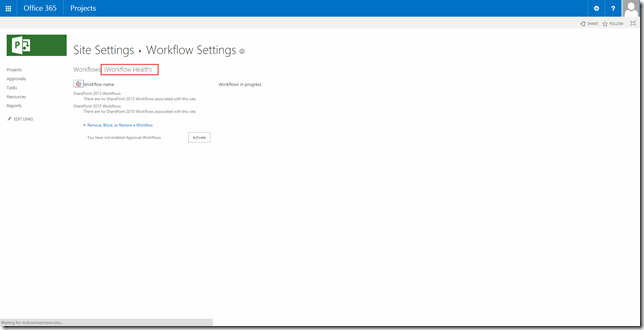 Clicking on the link will open the Workflow Health screen for the PWA site.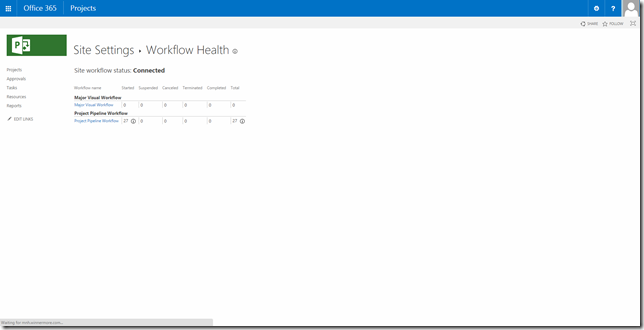 Now there doesn't appear to be any direct way to get to the page from within Project Online, so other than the Project team adding some links in the PWA settings, adding the following link <http:///sites//_layouts/15/WorkflowServiceHealth.aspx> to the quick links will do the trick.
Happy Workflow Monitoring