Ignite 2015 Wrap up
By blurg64
For the past few days I was lucky enough to attend the Microsoft Ignite conference in Chicago to hear about all the new stuff coming from Microsoft and I have to tell you, it's pretty exciting.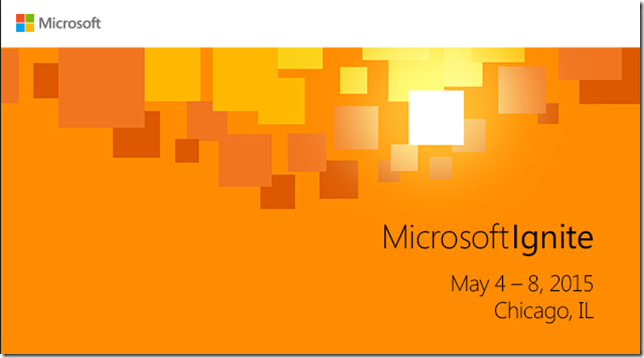 The conference itself was massive, over 23,000 attendees as a result of merging Tech Ed, Microsoft Management Summit, the SharePoint Conference, Project Conference, Exchange Conference and Lync Conferences together. If I had to think about it, I would say it was a little too big and Project looked to suffer for it, but their was some great content.
The keynote was massive, but seemed a little disjointed. Talking to a number of people, it felt as if all the good stuff had been announced earlier or at Build the week before. Ignoring that though, there was some great demo's from Julia White and my ex-colleague Ben Walters. The highlight had to be Gurdeep Pall (sorry Ben) , who was funny and engaging.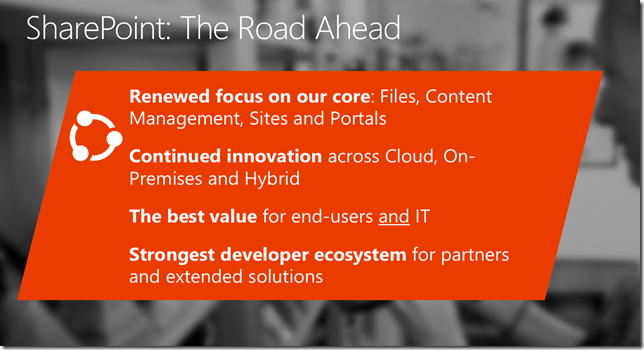 This conference was to be the coming out party for SharePoint 2016, and whilst it's still early days for the on-premises product, there were some key announcements, including:
MinRole concept – simplifying the ability to define which roles servers will take and the knock on effect of significantly reducing the patching overhead
Hybrid – SharePoint 2016 on-premises will make hybrid a first class citizen and augment on-premises capabilities with cloud services
Next Gen Portals – Awesome ready to go, quick and simple portals that can be up in a matter of minutes
Improved Management Tooling including zero downtime patching – Wow
Fast Site Creation – Sites will be created within the DB, instead of having to create templates with their various feature dependencies, making the process much much simpler.
and finally, the official announcement of the merging of the Project DB into the SharePoint Content DB.
I've heard about the merging for a while now for Project Online and it's a pretty impressive achievement. When a PWA instance was first created, Project Online used to provision a Project DB per tenant. So if there were 100's of tenants, there would be 100s of databases, all needing to be managed, maintained etc. driving up the cost of goods sold (COGS). Now between going live and early 2014, the Project team managed to consolidate all these databases and fold them into the SharePoint Content DB's without a single incident or impact on availability. A massive achievement for the team at Project.
From a Project perspective, there were a couple of great sessions where with demo's and announcements of new capabilities including the new multiple timeline support for Project Pro and the new Resource Engagements capability, both of which I will cover in a bit more detail in other posts.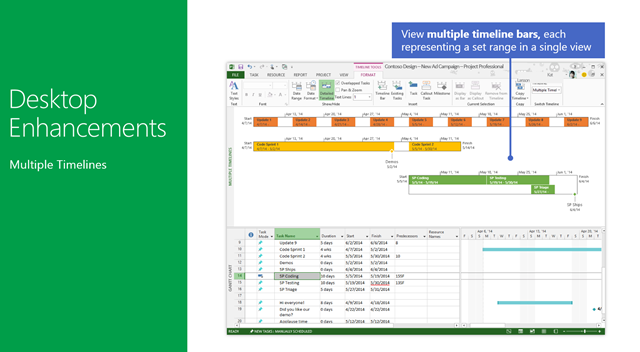 Finally, there was an interesting session on Project Online Customisation Best Practices, which gave some great insights into how to performance tune Project Central, although I am not sure I agree that taking the web parts off the page or removing indicators is the way to go.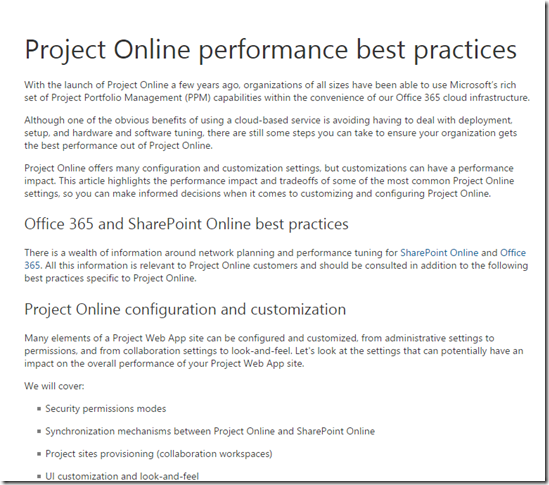 The session was timed to highlight a great new whitepaper published by Microsoft on the subject of Project Online Perf, covering:
Choosing the right Permission Mode – SharePoint or Project Server and it's impact on Queue Processing
Project Site Creation – When to create a project site in online to keep demand management workflow moving along quickly
PWA Page customisations
OData – Using Server Side Filters to improve oData Perf
You can read more of the white paper at https://support.office.com/en-us/article/Project-Online-performance-best-practices-12ba0ebd-c616-42e5-b9b6-cad570e8409c?ui=en-US&rs=en-US&ad=US&fromAR=1** **or at http://aka.ms/projectonlineperf
All in all Ignite was really big, full of sessions and it's going to take me a few days physically to get over it, but it was great to catch up with old friends, make new ones and learn. I am looking forward to Ignite 2016!